I'm posting birds probably because it's spring, and we're moving, and I'm decidedly feeling the nesting urge. Our house has sold, but we're not clear where we're headed yet, except we know we're staying in Charleston.
I want all my paintings to find a nice home where they'll be loved and bring a smile or provoke a thought. The best way to do that, one would think, would be to have a sale.
All my paintings will be anywhere from 20% to 25% reduced. Gag!
I'm hoping this blog will, perhaps, cause you to feel the nesting urge, and bring one of these paintings into your home.
§
This little Wren just found a home! He was grabbed on Instagram before the sale even began!!
I had to paint this Wren as he's been sitting on my kitchen window sill chirping his heart out. I figured he was singing "paint me!" And so I did.
COME TO MY STUDIO!
1393 SOUTHERN MAGNOLIA LANE
MT. PLEASANT, SC 29464
Friday, March 31 ~ 4 – 9pm
Saturday, April 1 ~Â 10am – 3pm
ORÂ PEEK IN ONÂ MY WEBSITE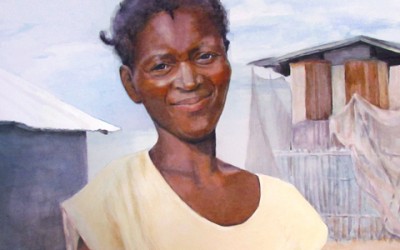 Anite is a Haitian woman who works at 2nd Story Goods, a non-profit cottage industry started by my friend Kathy Brooks. She tells Anite's story below: We stand outside Anite's tiny thatch home, the one she moved into this past June with her four children. I...