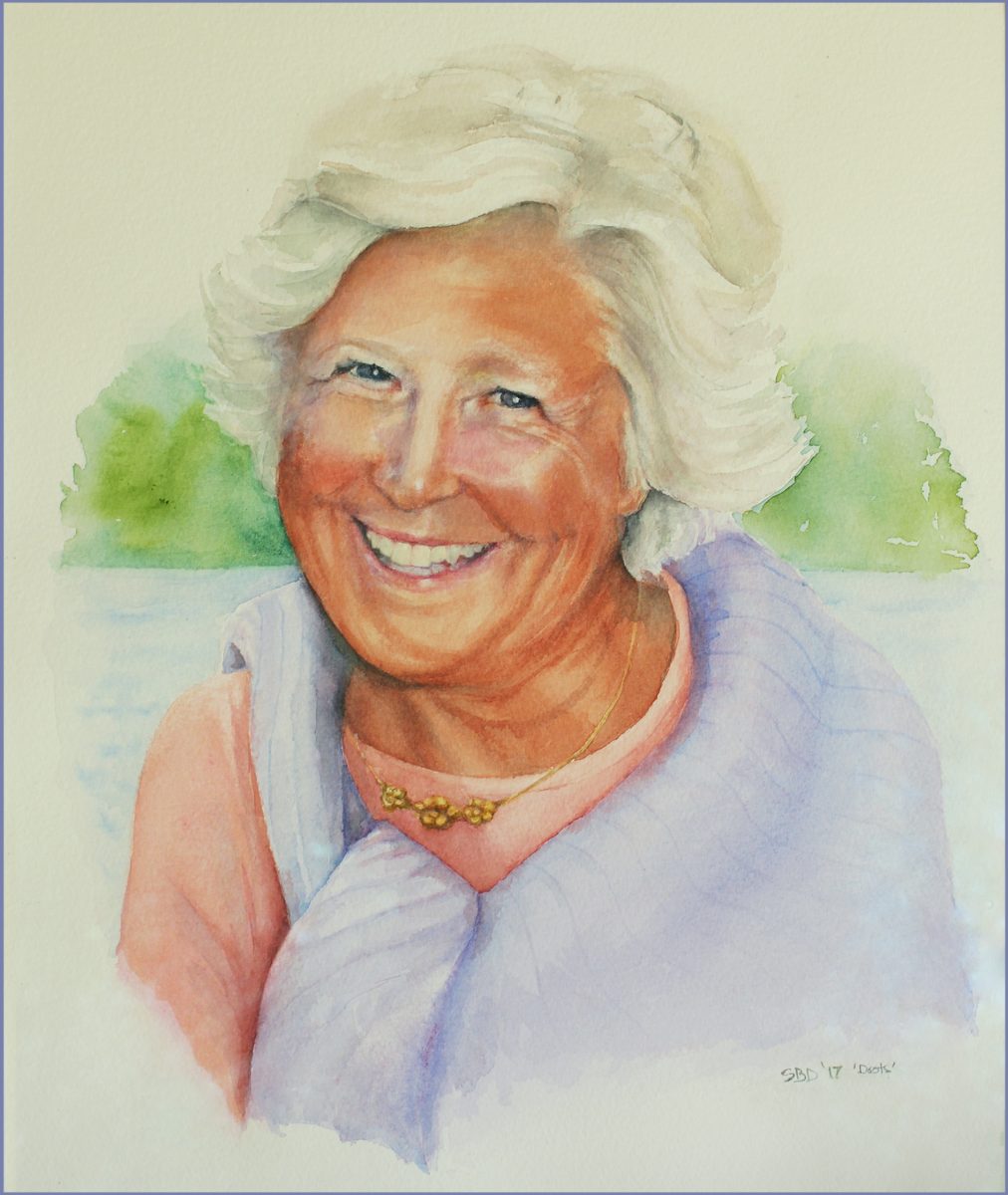 "Doots"
My childhood best friend, who died last year was just so full of life! She loved to laugh.
We met in pre-nursery school, and were both "Doots." We started the renowned "Doots & Doots Detective Agency"… solving all manner of crimes…often ones that we committed.
I was asked by her siblings to paint her portrait as a gift to her husband. I so dearly wanted to capture this loving, zany friend who was always looking for a joke or plotting something mischievous.
I have to say that this was the hardest painting I've ever done. Often I'd cry.
But the painting was presented to her husband last week, and I was so touched by his thoughtful note:
"I can't begin to describe the impact of your painting. Such a blessing. God's in His heaven and Sandy's with Him. Love you."
Oh, I'm so glad I was asked.
Here are a few thoughts en route to the painting
This is what's called a "value study." I gave arbitrary colors to the various values on Doots's face, namely dark black and dark blue for the darkest values. The middle values on the face are purple/gray. The interesting thing I learned is that you can use ANY color in a painting and it will make sense as long as the value is accurate. It will look astoundingly right. Value is key!
I've enclosed a value chart here going from the lightest light to the darkest dark, so you can see the variations.
Doots's brother stopped by, and we determined that he had the same coloration as Doots. These are the sample colors that I used primarily on her face in the painting.
I should add that the finished painting (above) is actually on white paper, so the colors are not accurate (sigh). The camera has a hard time registering white, and often gives the picture a yellow, red or blue cast. Frustrating!
Painting almost always requires many failed attempts. For instance, I couldn't get the right side of Doots's face without her looking truly bizarre, so I'm hiding it in this photograph… I, also, realized that her mouth was too wide. She also looked fat, and I didn't want that, so I scraped the whole thing. Sort of like bad batches of cookies…
I didn't take many pictures as I worked through this painting as I was so absorbed that I forgot. Next time I'll do better…
Aside from my fine art paintings, I'm illustrating a book of fables that my husband has written called "Timely Tales." I love them! Here are two preliminary illustrations. I'll be posting new ones here as I trot along…
Well, now it's time to get back to work…Â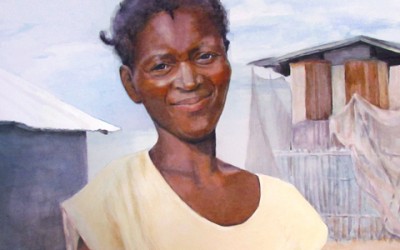 Anite is a Haitian woman who works at 2nd Story Goods, a non-profit cottage industry started by my friend Kathy Brooks. She tells Anite's story below: We stand outside Anite's tiny thatch home, the one she moved into this past June with her four children. I...