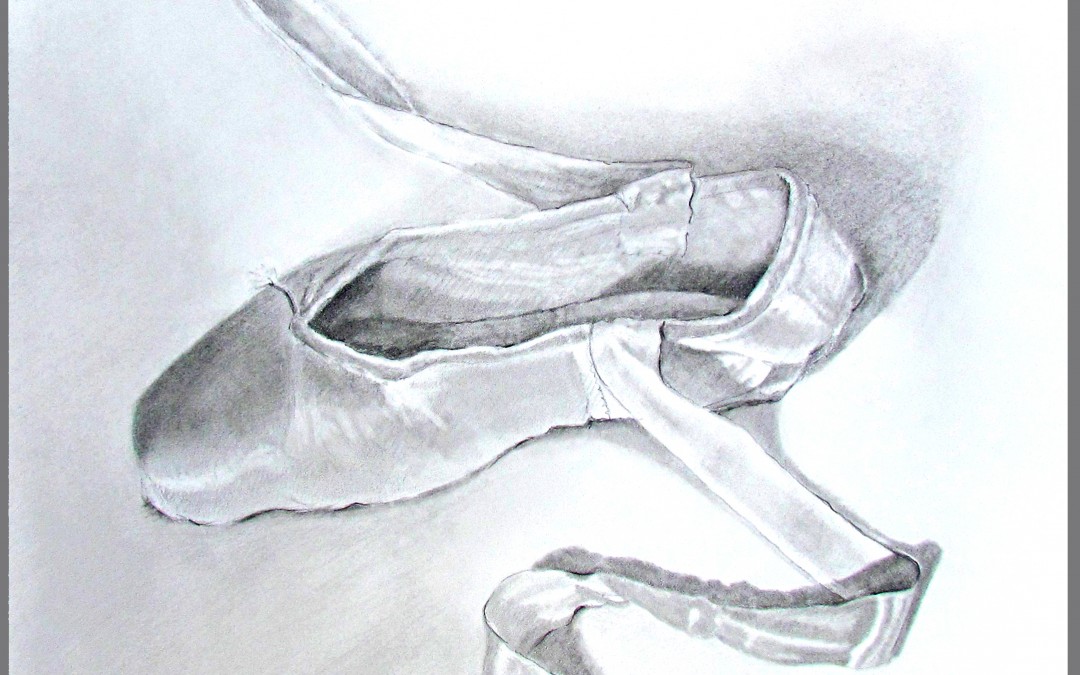 "The Performance Is Finished"
Drawing on Arches hot press paper using Faber Castell pencils.       SOLD
I did this drawing as sort of a cathartic exercise. My youngest daughter was on track to be a prima ballerina from an early age. I can't say how many hours we logged going to studios, schools, rehearsals etc. This past summer, we went to NYC as she had a opening with the American Ballet Theater. We were there a week, and she looked at me and said, "I can't do it, I just don't have the passion necessary for this…"  – I could fully understand; it's a life that demands everything…
 She's now in Colorado working on a Dude Ranch… she's in heaven!
I thought I would do a series of ballet studies, and say my "Good Byes."
The pointe shoe is really a beautiful thing. I wanted to portray not only the fact that the shoe itself was "done" but that, so often, we need to leave or bring closure on things in our lives that no longer "fit."
 This piece just won First Place in the Jekyll Island Arts Festival. That was nice.
Update on Anite!
The monies raised from the sale of the print have enabled 2nd Story Goods to build a toilet for Anite and her kids. Thanks to all who helped! The photo below shows the toilet in progress. If anyone can figure out what's going on, please let me know! I've posted here a conversation that I've been having with Kathy Brooks, who runs the ministry, below:
Kathy: hey love, I am so excited to give Anite the money tomorrow ( today , now)
She is working on her house , and really wants to put a toilet in for her family…
( so they don't have to go out in the field) ..again, there really aren't words for the
difference that makes for her and her daughters! I think that is a great use of
these funds… such dignity in that …. thank you for listening that creative
wild God we serve!
Sarah: Hard to tell what this is? Can you explain? It looks like a circular wall. Will it be a toilet?